EHPLabs OxyShred Fat Burner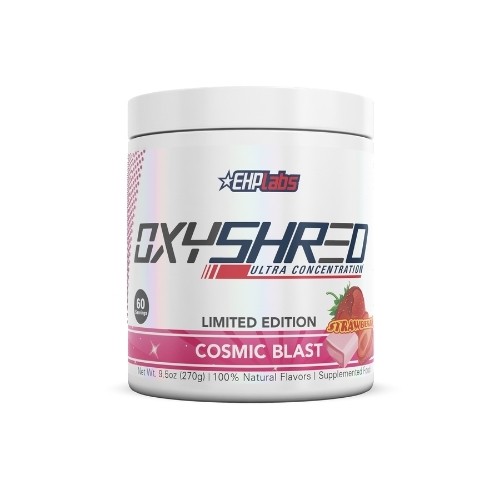 First on our list is the fiery EHPLabs OxyShred Fat Burner. This is no ordinary CrossFit pre-workout supplement; it's a scientifically-backed fat torching powerhouse. Perfect for those gruelling CrossFit WODs, it targets fat cells like a heat-seeking missile, making stubborn fat its prime target.
Plus, with its range of naturally sourced, fruity flavours, it's a treat for your taste buds too. But remember, it's not just about the burn; it's about turning that burn into raw CrossFit power. Now that's why we're burning for OxyShred!
Why do we love EHPLabs OxyShred Fat Burner?
Scientifically Backed: EHPLabs OxyShred's potent formula is scientifically researched, making it a trusted partner of any CrossFit athlete in achieving weight management goals.
Versatile and Delicious: Available in various naturally sourced, fruity flavours, it doubles as a tasty, low-calorie beverage for all-day sipping or a pre-workout energy boost.
Efficient Fat Burning: As a thermogenic fat burner, it directly targets your body's fat receptor cells, efficiently tackling even the most stubborn fat and keeping athletes in peak form.
Arms Race Nutrition Harness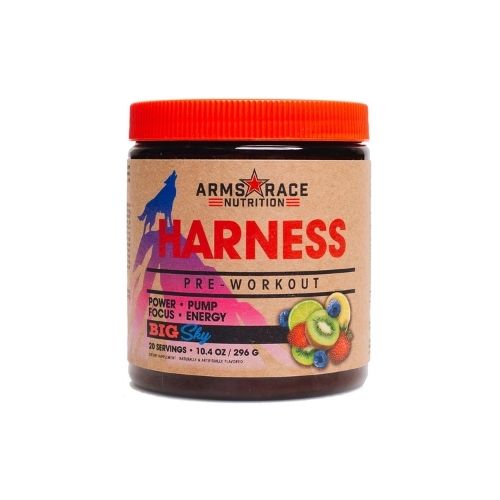 Next from our pre-workout arsenal is Arms Race Nutrition Harness. This great pre-workout supplement is not just about energy; it's a scientifically formulated blend designed to elevate your CrossFit routine.
With ingredients like caffeine anhydrous and ZumXR for sustained energy, coupled with L-tyrosine and Citicoline for laser-like focus, this supplement doesn't just turn up the volume – it changes the station to 'unstoppable'. Add in L-citrulline and ViNitrox for pump and muscle recovery, and you're looking at your next CrossFit game-changer.
Why do we love Arms Race Nutrition Harness?
Long-lasting Energy: With a blend of caffeine anhydrous and ZumXR, this supplement gives athletes the immediate and enduring energy needed to triumph in their CrossFit training.
Mind Muscle Connection: The combination of L-tyrosine, Citicoline, and Huperzine A enhances mental clarity, keeping athletes focused on every rep and set.
Unleashed Power: Thanks to elevATP, strength and power output gets a significant boost, turning every workout into a record-breaking session.
ATP Science Slice n Dice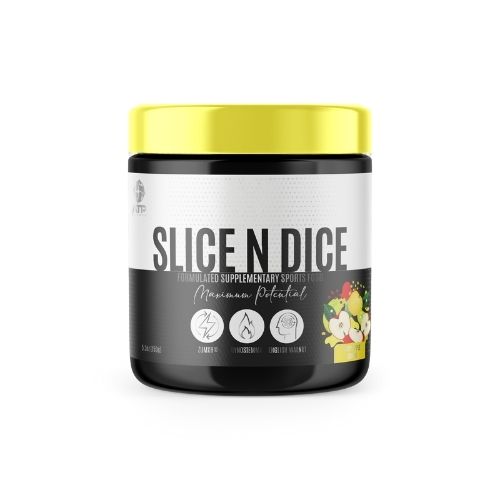 Your secret weapon for CrossFit success? ATP Science's Slice n Dice, a potent thermogenic formula that's more than just a pre-workout. It's the ultimate ally for your fat loss journey, combining top-notch ingredients like English walnut and bitter orange with a steady caffeine release to fuel your WODs.
And the best part? Three delicious flavours, without any artificial colours or flavours. It's like having your CrossFit cake and eating it too!
Why do we love ATP Science Slice n Dice?
Unleashes Energy: ATP Science Slice n Dice packs a whopping 320mg of caffeine, offering athletes an immediate energy surge and enhanced mental focus for those intense workouts.
Appetite Suppression: Its English Walnut ingredient not only boosts energy but also curbs appetite, supporting athletes in their weight management journey without the hunger pains.
Clean and Delicious: With no artificial colours or flavours, it offers a clean, mouth-watering taste in three delicious varieties, making your pre-workout routine a delightful experience.
Core Nutritionals Burn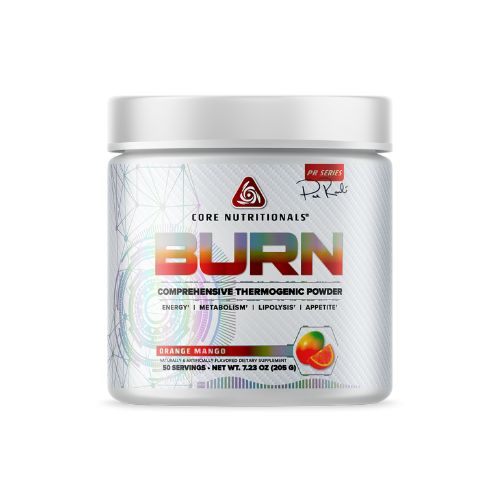 Feeling the burn has never felt better with Core Nutritionals Burn, a thermogenic marvel that's more than just a fat metaboliser. With a blend of 10 active ingredients, it offers CrossFit enthusiasts not just weight loss support but also cortisol control, mood elevation, and sustained energy without any crash.
Whether you're in the midst of a weight loss phase or just seeking that extra oomph for your WOD, this supplement is your ticket to a fitter, more focused you.
Why do we love Core Nutritionals Burn?
Sustained Energy: Its unique blend of standard caffeine and Zum-XR delivers long-lasting energy without the crash, keeping athletes fueled and focused throughout their training.
Mood and Stress Control: Thanks to KSM-66 Ashwagandha, this supplement not only aids in weight loss but also helps reduce stress and anxiety, making workouts more enjoyable.
Holistic Weight Loss Support: Beyond burning fat, it assists with cortisol control, blood sugar stability, and appetite suppression, providing a comprehensive approach to weight management.
EHPLabs Oxyshred Hardcore
Get hardcore with EHPLabs OxyShred Hardcore. Packing more caffeine and thermogenic ingredients, this beast helps you crush your WODs like never before. And guess what? The strength doesn't compromise taste. Whether it's zesty Lemon Sherbet or tantalising Grape Bubblegum, every sip will be an exhilarating ride.
Why do we love EHPLabs Oxyshred Hardcore?
Hardcore Energy Boost: EHPLabs OxyShred Hardcore delivers an amplified caffeine punch, enhancing exercise performance and keeping athletes in the game longer.
Fat Burning Powerhouse: With Acetyl L-Carnitine, it encourages the body to tap into stored fat for energy, supporting weight loss and improved workout performance.
Flavourful Experience: Despite its potent formula, it comes in tantalising Lemon Sherbet and Grape Bubblegum flavours, making every sip a delicious motivation for those intense training sessions.
Fantom Burn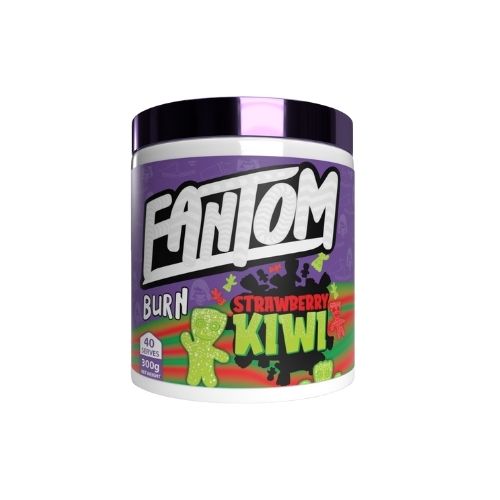 The ghostly power behind your workout, Fantom Burn, is the versatile energy booster tailored for CrossFit enthusiasts. This good pre-workout powder not only fuels your WODs but also curbs hunger cravings and sharpens focus when motivation wanes.
Enjoy it first thing in the morning, or savour it throughout the day for a sustained energy source. With Fantom Burn, every rep, every set, and every workout becomes a spectral spectacle of your fitness journey.
Why do we love Fantom Burn?
Energy Amplifier: Fantom Burn's unique blend of ingredients provides a versatile energy boost, perfect for CrossFit athletes needing that extra kick during training or day-to-day activities.
Fat Metaboliser: With Acetyl L-Carnitine, it aids in using stored fat for energy during high-intensity workouts, promoting weight loss for lean muscle mass and improved body composition.
Cognitive Enhancer: Not just a physical booster, it also enhances focus and concentration thanks to Alpha GPC and Tyrosine, making every session count.
Ghost Legend Pre Workout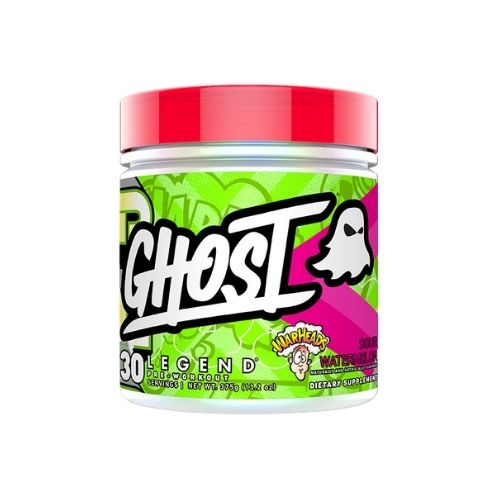 Become a legend in your own gym with Ghost Legend Pre Workout. Created for CrossFit warriors, this supplement offers unbeatable energy, laser-sharp focus, and skin-splitting pumps. It's not just about the gains, it's about the taste too. From zingy Lemon Lime to tangy Sour Watermelon, every scoop is a flavour party.
Whether you're lifting, lunging, or leaping, Ghost Legend ensures your performance is nothing short of legendary. Don't believe us? Try it for yourself and prepare to be wowed!
Why do we love Ghost Legend Pre Workout?
Unbeatable Energy and Focus: Ghost Legend pre-workout delivers laser-sharp focus and unbeatable energy, thanks to its potent blend of nootropics and caffeine, turning every CrossFit WOD into a legendary session.
Performance-Enhancing Ingredients: Packed with Alpha GPC, Agmatine Sulfate, and Beta-Alanine, it not only improves mental clarity but also boosts muscle pumps and athletic performance.
Flavourful Motivation: From Lemon Lime to Sour Green Apple, its wide array of lip-smacking flavours makes prepping for intense CrossFit workouts a delightful experience.
Redcon1 Total War Pre-Workout
Declare war on mediocre workouts with Redcon1 Total War Pre-Workout. This crowd-favourite CrossFit pre-workout drink is your secret weapon in the CrossFit arena, ready to amplify every session, any time of day. With a blend of clinical dosages and mind-blowing flavours, it's designed for sustained performance and great results.
No more settling for the ordinary; it's time to battle for the extraordinary with every rep, every set, every WOD. Enlist in the Total War revolution today.
Why do we love Redcon1 Total War Pre-Workout?
Performance Powerhouse: Redcon1 Total War Pre-Workout, the world's most popular pre-workout, delivers consistent performance, fueling CrossFit athletes for maximum session results.
Flavour Fiesta: With a whopping 18 flavours plus limited editions, it offers a taste adventure that makes every pre-workout routine exciting and enjoyable.
Stackable Strength: Its compatibility with Big Noise enhances blood flow and cognitive boost, providing a comprehensive workout boost without the crash. Ideal for those intense CrossFit sessions.
Inspired Nutraceuticals Ember Reborn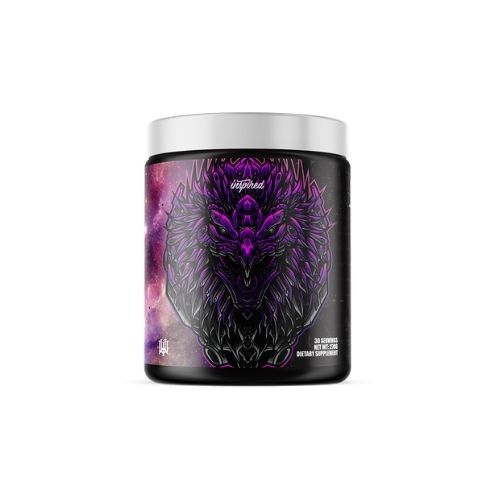 Reignite your CrossFit passion with Inspired Nutraceuticals Ember Reborn. This comprehensive weight management formula is not just a fat oxidiser but also a mental game-changer. Loaded with Acetyl L-Carnitine, Dandelion extract, and Theobroma for physical prowess and boosted with nootropics like Alpha GPC for mental agility,
Ember Reborn makes every WOD a step toward your fitness goals. Available in three tantalising flavours – Mango Tango, Raspberry Rage, and Island Vibes, it's a complete CrossFit companion.
Why do we love Inspired Nutraceuticals Ember Reborn?
Fat Incinerator: Ember Reborn ignites your CrossFit workout by promoting the oxidation of fat for fuel, thanks to ingredients like Acetyl L-Carnitine and green coffee bean extract.
Mind Muscle Connector: With Alpha GPC, it not only fuels your workout but also enhances cognitive performance, ensuring your mental game is as strong as your physical.
Flavour Explosion: Available in Mango Tango, Raspberry Rage, and Island Vibes, it makes every sip a tropical getaway.
Final Thoughts
Choosing the right pre-workout for CrossFit can transform your training. From the energy-boosting caffeine and creatine in top picks like Redcon1 Total War to the strength and muscular endurance boost of Arms Race Nutrition Harness and the metabolic support of ATP Science Slice n Dice, these supplements are designed to fuel your performance.
Don't settle for less in your CrossFit journey. Discover the power of these top-rated pre-workouts today. Ready to elevate your workout game? Visit Power Supps' online store and find your perfect fitness partner. Because in CrossFit, every rep counts.