JD Nutraceuticals Incinerate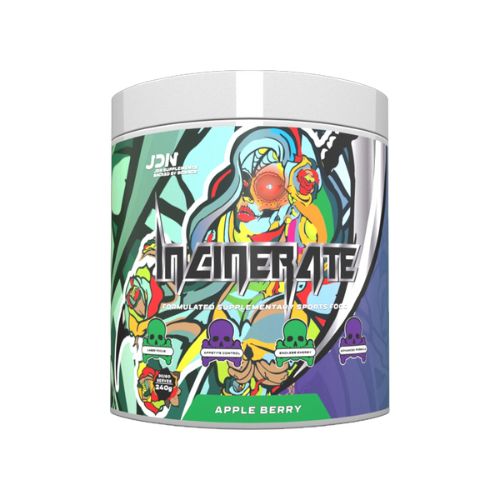 To kick off your fitness journey, JD Nutraceuticals Incinerate is a game-changer. With its unique blend of nearly 30 active ingredients, this powerhouse supplement is designed to wake up fat cells and switch your brain into 'get things done' mode.
Expect an incredible burst of energy within minutes of consuming, long-lasting stamina for those intense workouts, and enhanced focus even after a long day. And the best part? It tastes so good, you'll be looking forward to your pre-workout routine.
Why do we love JD Nutraceuticals Incinerate?
Unmatched Energy Boost: JD Nutraceuticals Incinerate provides an incredible burst of energy just 10 minutes after consumption, perfect for powering through those gruelling leg or back sessions with enthusiasm.
Enhanced Focus: With its unique formula, this supplement boosts your mental clarity, helping you stick to your fitness plan even after a long day at work. It's like having your very own motivational coach in a bottle!
Delicious Taste: Despite being packed with active ingredients, the flavouring wizards at JDN have crafted one of the most refreshingly delicious pre-workouts. You'll be looking forward to every sip.
EHPLabs OxyShred Fat Burner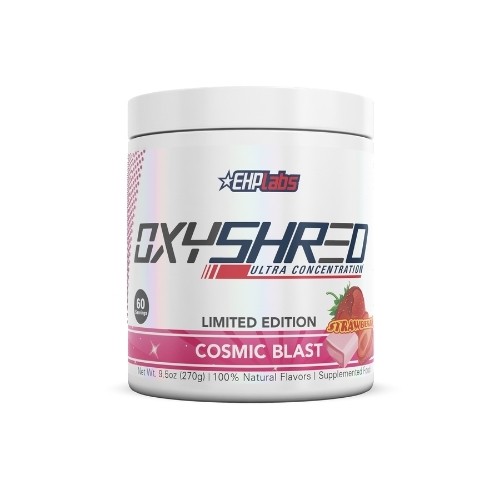 Next on our list is none other than the EHPLabs OxyShred Fat Burner. This potent weight management product is scientifically formulated to give your fat-burning efforts a mega boost. It's not just a pre-workout drink but a powerful ally in your battle against stubborn fat.
With a unique blend of Acetyl L-Carnitine, Green Coffee Bean Extract, and more, it targets fat cells directly. Plus, its natural fruity flavours make it a refreshing beverage you'll love sipping all day. Ready for a leaner you? Meet OxyShred.
Why do we love EHPLabs OxyShred Fat Burner?
Scientifically Researched: EHPLabs OxyShred Fat Burner is backed by science, with a potent weight management formula designed to give your diet that extra boost. Perfect for those tricky fat loss goals.
Versatile and Flavourful: Available in naturally sourced, delicious fruity flavours, Oxyshred doubles as a low-calorie beverage you can sip on all day or use for an energy boost before fasted cardio.
Direct Fat Targeting: This thermogenic fat burner directly targets fat cells, including stubborn fat, making it an efficient partner in your health and fitness journey.
Cellucor C4 iD Series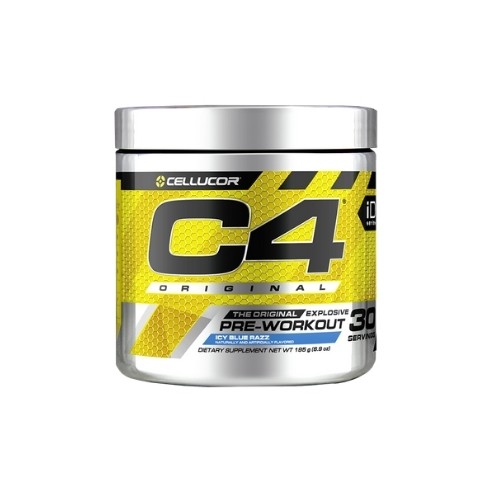 If you want a pre-workout supplement that's stood the test of time, meet Cellucor C4 iD Series. This legendary formula delivers laser focus, skin-splitting pumps, and explosive energy to supercharge your gym sessions.
With ingredients like caffeine for energy, beta-alanine for strength, and arginine for nitric oxide production, C4 Original is your ticket to enhanced stamina, muscle growth, and quicker recovery. Plus, with 9 unbelievable flavours, your taste buds are in for a treat.
Why do we love Cellucor C4 iD Series?
Explosive Energy and Focus: With caffeine as a key ingredient, Cellucor C4 iD Series delivers an energetic punch to boost your motivation and focus, turning every gym session into a power-packed performance.
Muscle Support and Recovery: Featuring beta-alanine and Arginine Alpha, this formula helps your muscles work harder and recover faster. It's like having a personal trainer and masseuse all in one tub.
Taste Extravaganza: Available in 9 mouth-watering flavours, C4 makes pre-workout prep a tasty affair. It's not just a supplement, it's a taste adventure that leaves you wanting more!
Optimum Nutrition Gold Standard Pre-Workout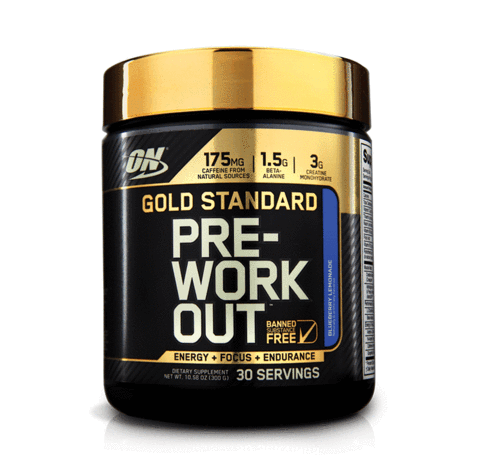 Crush your workout with the help of Optimum Nutrition Gold Standard Pre-Workout. This product is your secret weapon against drowsiness and mediocre training sessions. It's expertly formulated with just the right amount of caffeine to boost energy and enhance focus without overdoing it.
Available in five refreshing flavours, this pre-workout can be enjoyed hot or frozen. Plus, it's third-party tested and banned substance-free.
Why do we love Optimum Nutrition Gold Standard Pre-Workout?
Trusted Brand: Optimum Nutrition Gold Standard Pre-Workout comes from a brand that's synonymous with sports nutrition excellence. It's like having a trusted personal trainer in supplement form!
Caffeine-Focused Energy Boost: Skillfully crafted with just the right amount of caffeine, it provides a significant energy boost and enhanced focus without overdoing it.
Tasty and Versatile: With 5 deliciously refreshing flavours that can be enjoyed as a frozen slushie or hot beverage, this pre-workout brings an exciting twist to your fitness routine.
Ghost Gamer
Who says gaming is just about having quick thumbs? Enter Ghost Gamer, the perfect fusion of brain-boosting nootropics and clean, natural energy. This game-changing formula, featuring exclusive ingredients like nooLVL and L-Tyrosine, enhances focus, boosts cognitive performance, and improves reaction times.
Whether you're a rookie or a pro, Ghost Gamer is your secret weapon for levelling up. Plus, with its delicious flavours, you'll be fragging enemies and sipping in style. Game on!
Why do we love Ghost Gamer?
Boost Cognitive Performance: With nooLVL, a patented ingredient exclusive to Ghost Gamer, you'll see significant improvements in visual attention, accuracy, and reaction time. It's game-changing, literally!
Enhanced Mood and Focus: L-Tyrosine in Ghost Gamer boosts multiple neurotransmitters, enhancing dopamine, epinephrine, and norepinephrine levels. Result? Improved mood and laser-sharp focus for every gaming session.
Deliciously Addictive: Ghost Gamer not only supercharges your physical performance but also tantalises your taste buds. It's so delicious, you'll want to drink it all day long!
EHPLabs Pride Pre-Workout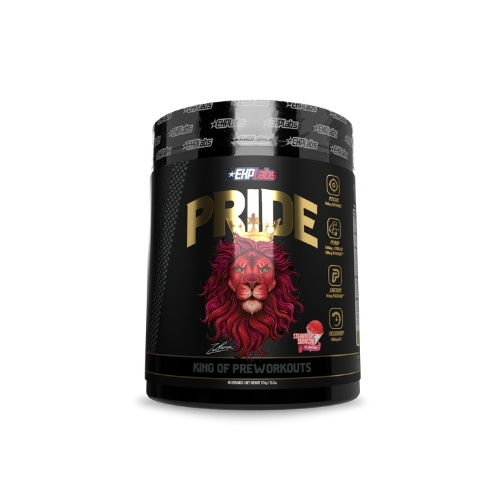 Raise the bar with EHPLabs Pride Pre-Workout, the new king of the pre-workout jungle. This well-balanced formula is designed to deliver epic focus, skin-splitting pumps, and awesome energy. It's not just about caffeine; it's about a 5-stage release for sustained vitality.
Pride is loaded with nootropics for laser-sharp focus and vasodilators for maximum muscle pumps. Available in 3 refreshing flavours. Don't settle for a sheep's workout, unleash the lion within with Pride!
Why do we love EHPLabs Pride Pre-Workout?
King of the Jungle: EHPLabs Pride Pre-Workout reigns supreme, offering a well-rounded formula that delivers epic focus, skin-splitting pumps, and roaring energy.
Caffeine Craftsmanship: With a measured dose of caffeine intake, Pride provides an energy boost and enhanced focus without overkill. It's like your personal wake-up call for those intense workouts.
Loaded and Refreshing: This new formula is packed with nootropics and vasodilators for laser-sharp focus and maximised muscle pumps. Plus, three refreshingly amazing flavours make every sip a delight.
Ghost Burn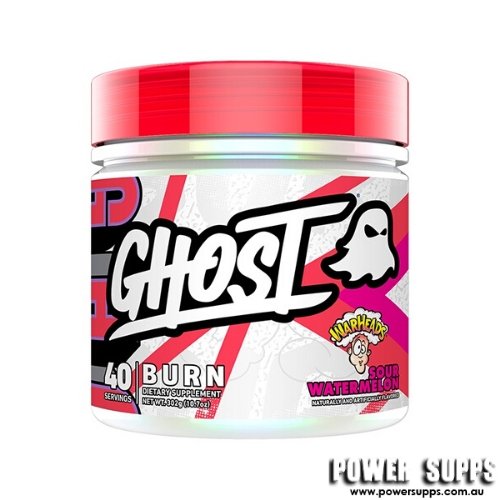 Ready to turn up the heat on your fitness journey? Ghost Burn is your ultimate pre workout product. This versatile, thermogenic powerhouse is designed to kick-start your metabolism, helping you burn calories even during high-intensity workouts.
Its star ingredient, Acetyl L-Carnitine, taps into stored fat for energy, supporting weight loss. Plus, with added nootropics and available in 4 delicious flavours, Ghost Burn not only revs up your body but also sharpens your mind. Now that's a burn everyone can enjoy!
Why do we love Ghost Burn?
Versatility at its Best: Ghost Burn is not just for body weight management. It can replace your morning coffee, provide energy for workouts, and maximise calorie burning.
Cognitive Boost and Weight Loss Partner: Acetyl L-Carnitine in Ghost Burn aids cognitive abilities while helping your body use stored fat for energy. Brain boost plus weight loss? Yes please!
Delicious and Inclusive: Available in 4 delicious Warhead Confectionery flavours, Ghost Burn is soy-free, gluten-free, and vegan-friendly.
Ghost Burn Black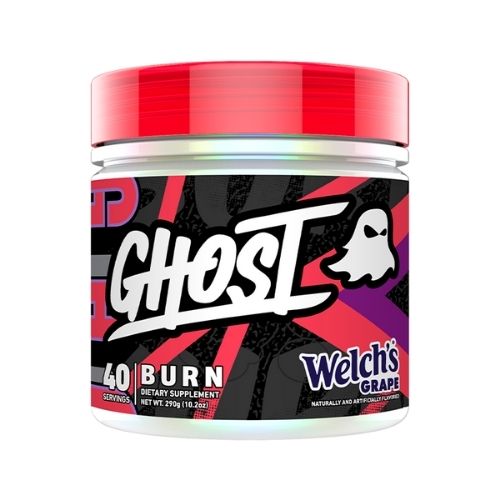 After Ghost Burn, this is something to ignite your senses. Meet Ghost Burn Black, the original formula's turbo-charged cousin. With power-packed additions like GBB for a full sweat, garcinia cambogia for appetite control, and AstraGin for improved absorption, it's your ultimate gym partner.
Expect an energy surge, thermogenic effects, and a taste that's simply unbeatable. Plus, it boosts cognition and aids in weight loss. Ready to feel the burn? Choose Ghost Burn Black and turn up the heat!
Why do we love Ghost Burn Black?
Supercharged Sweat: Ghost Burn Black is turbo-charged with 50mg of GBB, ensuring a full-on sweat session.
Appetite in Check: Thanks to 1.5g of Garcinia Cambogia, Ghost Burn Black helps keep your appetite under control.
Optimised Absorption: With 50mg of AstraGin, this formula ensures you're absorbing all its goodness efficiently. It's not just about what you take, but how well you absorb it.
Muscle Nation Destiny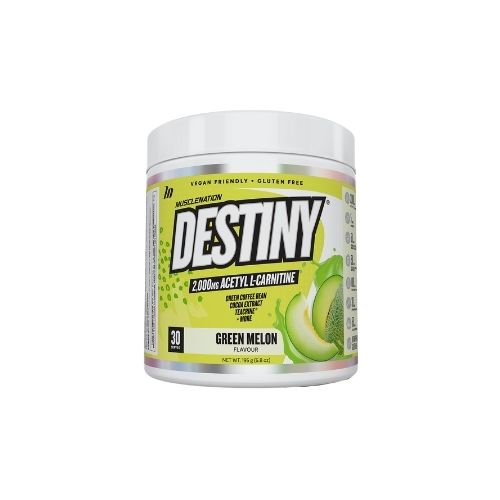 Second to none, Muscle Nation Destiny is your caffeine-charged ally for weight management. This elite pre-workout not only promotes weight loss by turning stored fat into energy but also replaces your morning coffee or energy drinks with a delicious boost.
With flavours like Red Candy Sticks and Green Melon, it's a sweet treat that enhances cognitive abilities and focus. Perfect for fasted cardio sessions or mid-day pick-me-ups, Destiny helps you conquer the day and your goals.
Why do we love Muscle Nation Destiny?
More Than Weight Management: Destiny is not just for diet phases. It's also a tasty, energising coffee replacement that sharpens your focus and boosts your day.
Flavourful Focus: With flavours like Red Candy Sticks and Green Melon, Destiny tastes as amazing as it performs. Who said fitness couldn't be delicious?
Flexible Fitness Partner: Perfect for morning cardio sessions and high-intensity exercise, between-meal sips, or stacked with Three-D for added pump and focus, Destiny adapts to your fitness journey.
ATP Science Yippee Ki Yay Pre Workout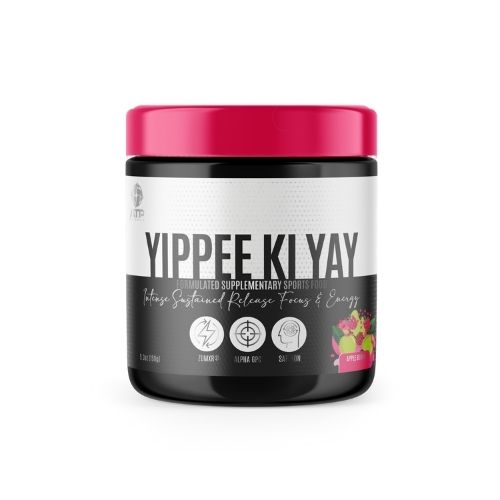 Of course, with a name like ATP Science Yippee Ki Yay Pre Workout, you know you're in for an extraordinary ride. This all-natural pre-workout formula packs a mighty punch, featuring 235mg of caffeine and 80mg of zumXR for sustained energy release.
It's the secret weapon that keeps you wired, switched on, and focused to conquer workouts, gaming sessions, or even those marathon workdays. Plus, with three delicious flavours and the mood-enhancing power of saffron, it's a taste sensation that delivers on performance.
Why do we love ATP Science Yippee Ki Yay Pre Workout?
Enduring Energy: With a potent mix of caffeine anhydrous and zümXR, Yippee Ki Yay promotes energy that lasts.
Nature's Best: Don't be fooled by its all-natural formula. This pre-workout packs a punch with pure and powerful ingredients that deliver results. It's Mother Nature's secret weapon for your workouts.
Flavour Fiesta: With three tantalising flavours, Yippee Ki Yay turns every workout into a taste adventure.
Final Thoughts
Whether it's JD Nutraceuticals Incinerate for intense energy, EHPLabs OxyShred Fat Burner for effective fat loss, or the unique blend of ingredients in Ghost Gamer for enhanced focus – all these 150mg caffeine pre workout drinks have their unique benefits. Remember, a great workout starts with the right fuel.
Don't compromise on your performance. Visit Power Supps' online store today and empower your workouts with our top-rated 150mg caffeine pre-workout supplements. Elevate your fitness journey with Power Supps!