Best 300mg Caffeine Pre Workout Supplements
ATP Science Slice n Dice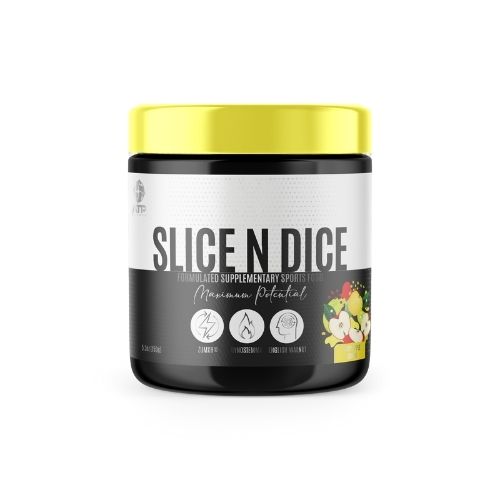 To start off, let's slice and dice your workout routine with ATP Science Slice n Dice. This potent thermogenic formula is like a personal trainer in a bottle, designed to turn up the heat on your fat loss journey.
With a blend of scientifically-backed ingredients, including English walnut, bitter orange, and sustained-release caffeine, it's not just about burning calories – it's about optimising every sweat-drenched, heart-pounding session. And the best part? It tastes as good as victory feels. No artificial colours or flavours – just pure, performance-boosting power.
Why do we love ATP Science Slice n Dice?
Packed with Power: ATP Science Slice n Dice doesn't just wake you up, it fires you up. With a hefty 320 milligrams of caffeine, it's your turbo-charged start line to every workout.
Natural and Nourishing: English walnut acts as a stimulant, enhancing energy and mental alertness. Meanwhile, it curbs your appetite, making it a perfect partner for diet-conscious athletes.
Clean and Pure: This artificial-free pre workout is all about pure, unadulterated performance enhancement, making it a clean winner in our book.
EHPLabs Oxyshred Hardcore
Next on our list, let's turn up the intensity with EHPLabs OxyShred Hardcore, one of the best pre workout supplement products in the market. This pre-workout is like your regular OxyShred after a double shot of espresso – packing more caffeine, more thermogenic ingredients, and a bigger punch overall.
It's designed for athletes who believe in pushing boundaries, breaking records, and never settling for less. And with irresistible flavours like Lemon Sherbet and Grape Bubblegum, it's not just a workout enhancer, it's a taste sensation.
Why do we love EHPLabs Oxyshred Hardcore?
Fueling Fat Loss: With Acetyl L-Carnitine, EHPLabs OxyShred Hardcore makes stored fat run for the hills, helping athletes sculpt their perfect physique.
Power-Packed Performance: This formula doesn't just walk the walk, it sprints. With more caffeine, it's scientifically designed to promote exercise performance and boost energy levels.
Fruit Punch: Stronger doesn't mean bitter. With Lemon Sherbet and Grape Bubblegum flavours, it's a delicious sip that'll have you craving your next workout.
JD Nutraceuticals Incinerate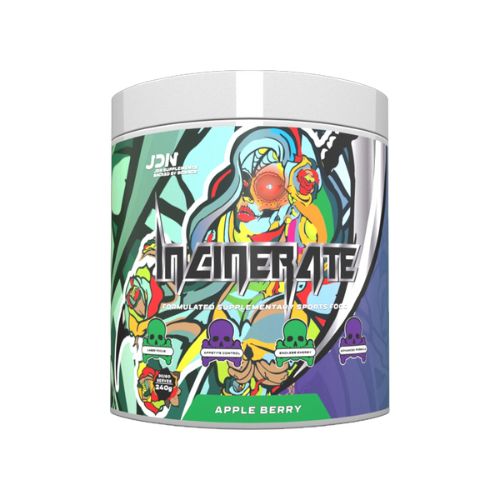 Get ready to light up your workout with JD Nutraceuticals Incinerate. This isn't your average pre-workout; it's a veritable symphony of nearly 30 active ingredients, all fine-tuned to ignite your fat cells and kick your brain into high gear.
But don't let the power-packed formula trick you – this is a delicious pre workout supplement that'll have you singing its praises every time you step into the gym. With flavours like Raspberry Swirl and Blueberry Lemonade, it's like a deliciously nutritious treat at the end of your workout. With flavours so refreshing, you'll be looking forward to every gulp.
Why do we love JD Nutraceuticals Incinerate?
Energising Effect: JD Nutraceuticals Incinerate triggers an incredible burst of energy just 10 minutes in, turning gruelling workouts into superhero training sessions.
Innovative Ingredients: With GBBGO and Halostachin, this formula pushes boundaries, helping burn fat for lean muscle mass, preventing fatty build-up, and providing a feel-good boost.
Taste Triumph: Despite its power-packed ingredients, Incinerate tastes amazing. It's a refreshing, delicious fuel that'll have you craving your next workout.
JD Nutraceuticals HellFire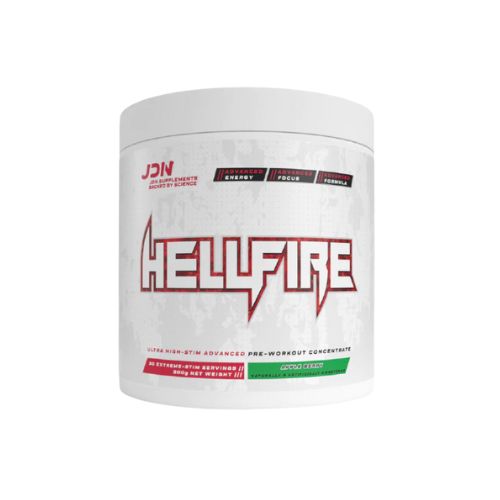 Get fired up with JD Nutraceuticals HellFire, the high-stim, bulk pre-workout that's taking the fitness world by storm. Packed with 14 potent pre workout ingredients, including a hefty 325mg of caffeine per serving, it delivers insane energy and laser-like focus to help athletes smash their PBs.
And who said powerful has to be unpalatable? With mouth-watering flavours, every sip is a celebration. Unleash your inner beast and experience the euphoria of true performance with HellFire. You'll never look back.
Why do we love JD Nutraceuticals HellFire?
Unleash the Beast: With a mega-high stim pre-workout formula, JD Nutraceuticals HellFire turns you into an unstoppable force, smashing PBs and powering muscle-building through intense workouts.
Euphoric Energy: Ingredients like English Walnut and Mango Leaf Extract not only fuel your body but also your mind, providing a euphoric yet focused state for peak performance.
Flavour Firepower: Despite its high-stim nature, HellFire doesn't compromise on taste. In fact, it's crafted with mouth-watering flavours that'll make your pre-workout routine a treat.
Redcon1 Total War Pre-Workout
Redcon1 Total War Pre-Workout is not just a supplement, it's your secret weapon in the fitness battlefield. Cherished worldwide, this pre-workout offers optimal athletic performance at any time of the day.
It's a blend of clinical dosages of amino acids and tantalising flavours that consistently make every workout a victory. Designed for athletes who seek extraordinary results, Total War is your ally in achieving greatness.
Why do we love Redcon1 Total War Pre-Workout?
Unwavering Performance: Total War is a reliable ally, ensuring you make the most of every workout session, no matter the time. It's the secret behind many successful athletes.
Flavourful Force: With 18 flavours, including limited editions, Total War turns your pre-workout routine into a delightful treat, making fitness deliciously exciting.
Powerful Partnership: The Total War + Big Noise stack amps up your training and helps increase blood flow and cognitive boost without overloading on stimulants.
Fantom Pre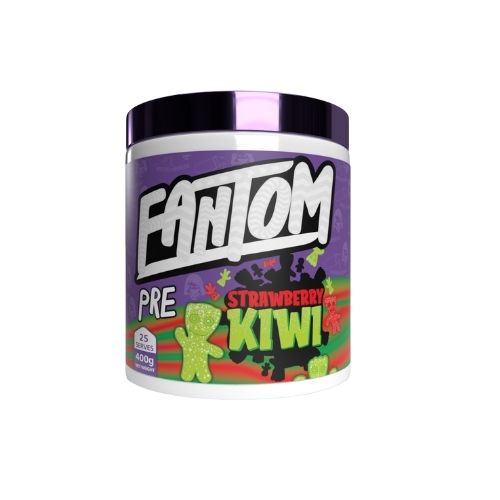 Fantom Pre is the new kid on the block in Australia's pre-workout scene, but it's set to be a crowd-pleaser. Packed with a hefty 250mg of caffeine, clinical doses of citrulline, and grams of beta-alanine, this solid pre-workout doesn't leave you jittery post-workout. Plus, it keeps your mind razor-sharp with tyrosine.
And let's not forget the flavours – think Grape Gobstopper and Sour Patch Strawberry Kiwi. With Fantom Pre, every workout becomes a sweet victory.
Why do we love Fantom Pre?
Power and Balance: Fantom Pre's balanced formula boasts 250mg of caffeine, clinical doses of citrulline, and beta-alanine, ensuring athletes a potent, jitter-free performance boost.
Focus Factor: With tyrosine and Alpha GPC, Fantom Pre sharpens your mental edge, locking in concentration for an all-out training session.
Taste Triumph: Available in mouth-watering Strawberry Kiwi and Grape Gobstopper flavours, Fantom Pre turns your pre-workout routine into a flavourful delight.
Faction Labs Disorder
Rev up your workout with Faction Labs Disorder Pre-Workout, the high-octane fuel for your fitness engine. With potent ingredients like caffeine and Citrulline Malate, it's more than just a sugar rush – it's a performance powerhouse.
But it's not all business; Disorder brings the party with ten delicious flavours, from Peach Ice-Tea to Candy Bomb. So if you're an athlete craving extra focus and energy, make Disorder your go-to pre-gym formula.
Why do we love Faction Labs Disorder?
Power-Packed Performance: With a blend of caffeine, Citrulline Malate, and other stimulants, Disorder Pre-Workout is an energy booster that drives athletes to their peak performance.
Flavour Fiesta: Who said performance supplements can't taste good? Disorder offers ten delightful flavours, turning your pre-workout routine into a tasty treat.
Mind & Muscle: The added nootropics like Alpha GPC in Disorder not only fuel your workout but also sharpen your focus, creating a mind-muscle synergy for optimal results.
Finaflex Stimul8 Hardcore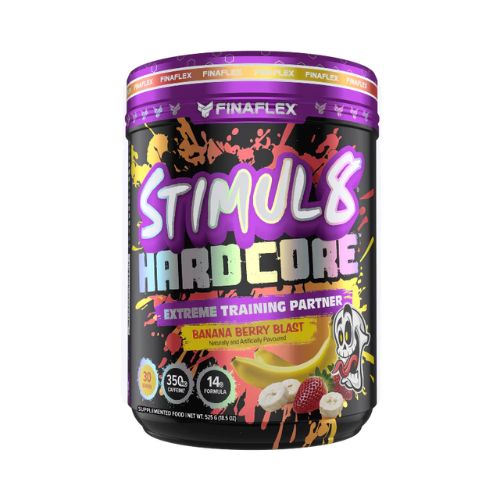 Unleash your inner beast with Finaflex Stimul8 Hardcore, the pre-workout that's not for the faint-hearted. Stacked with clinically dosed ingredients, it supercharges your energy, sharpens focus, and amplifies muscle pumps to an insane degree.
Featuring a blend of classic and exotic components, it's the secret weapon athletes use for maximum workout efficiency. Fast-acting and long-lasting, Stimul8 Hardcore gives you the edge you need to dominate any training session. Try it and experience hardcore performance.
Why do we love Finaflex Stimul8 Hardcore?
Epic Energy Explosion: Packed with a synergistic blend of caffeine and L-theanine, Finaflex Stimul8 Hardcore delivers smooth, long-lasting energy to fuel your intense workouts.
Cognitive Kickstart: Thanks to nootropics like L-Tyrosine and Alpha GPC, this pre-workout boosts cognitive function, sharpening focus and elevating mood for a fully engaged training experience.
Pump-Promoting Powerhouse: With ingredients like Citrulline Malate and Agmatine Sulphate, Stimul8 Hardcore maximises blood flow and nutrient delivery for muscle growth, enhancing performance and muscle recovery.
Iconic Series Outlaw Pre Workout
This last pre-workout supplement on our list is a real game-changer. Meet the Iconic Series Outlaw Pre Workout, a tribute to Aussie history and a powerhouse of performance. This high-stimulant pre workout powder, inspired by Ned Kelly himself, delivers lasting energy, sharp focus, and enhanced muscular endurance.
With its potent mix of caffeine and English Walnut Extract, it's designed for those who dare to break their personal records. Remember, this isn't for the faint-hearted but for the brave and bold athletes out there.
Why do we love Iconic Series Outlaw Pre Workout?
Historically Charged: With a nod to Aussie outlaw Ned Kelly, the Iconic Series Outlaw Pre Workout infuses your training with a rebellious spirit, perfect for record-breaking athletes.
Uniquely Authentic: Limited in number, this pre-workout stands out in a sea of mass-produced products, offering a dash of exclusivity to your fitness regimen.
Power-Packed Performance: Boasting a high-stimulant matrix, including caffeine and English Walnut Extract, it promotes enduring energy, amplifies focus, and reduces muscle fatigue, propelling you to new athletic heights.
Final Thoughts
In the world of athletics, the right pre-workout can make all the difference. From the power-packed Fantom Pre, the hard-hitting Finaflex Stimul8 Hardcore, to the rebellious Iconic Series Outlaw Pre Workout, each supplement offers unique benefits to fuel your performance. Choosing the right one is essential for achieving your athletic goals.
Ready to elevate your game? Visit Power Supps' online store today and discover a world of best pre-workouts tailored to your needs. Remember, greatness is just a scoop away!